If you're looking for a mini PC that is a little bit smaller than your desktop, the first thing that comes to your mind might is Intel NUC series.
Although the NUC mini PC is a highly popular device, there are in the market affordable computers that is comparable to an Intel NUC.
For those of you who don't want to pay the high price of an Intel NUC, you can consider buying an alternative from GEEKOM.
GEEKOM hasn't entered the mini PC market until earlier this year, but their first model, the Mini IT8, which comes with a beefy i5-8259U processor, licensed Windows 11 operating system, and a very attractive price tag, is catching a lot of eyeballs recently.
Design and build: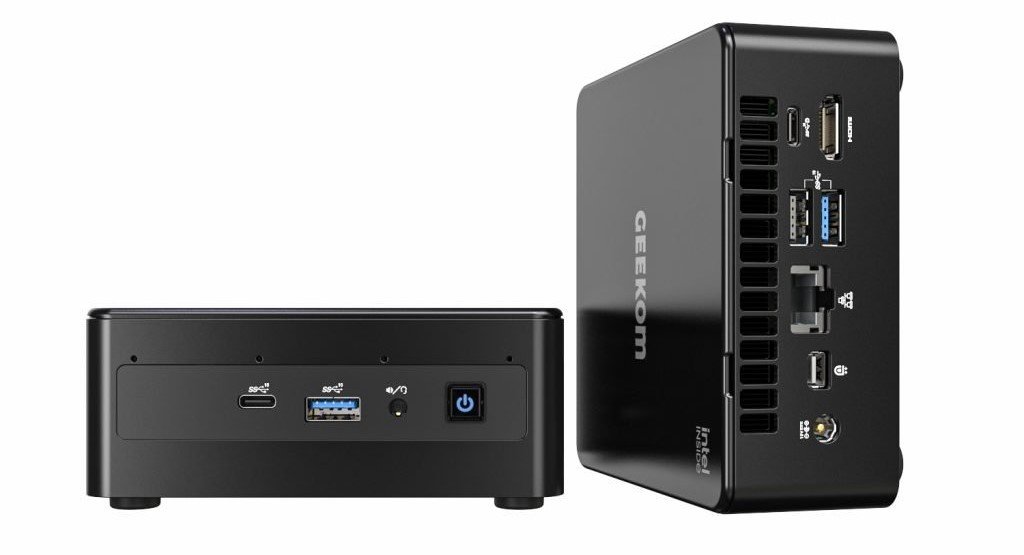 Unlike our common Intel NUC mini PC, the GEEKOM Mini IT8 employs a well-ventilated PC-ABS chassis measuring 117 mm x 112 mm x 45.6 mm to house the Intel Core i5-8259U SoC and other internal components.
The matte black finish on top may not win any beauty pageant, but it does give the machine a premium look, in a low-key kind of way. You can find the branding in the middle of the top panel, and an "Intel Inside" logo in the upper-right corner.
The GEEKOM Mini IT8 packs plenty of IO for its size. The front panel sports a USB 3.2 Gen2 Type-A port, a USB-C port (data only), and a 3.5mm audio jack with mic support. The power button on the right has a status LED built-in, which will light up in blue when the machine is booted.
The rear panel plays host to two more USB 3.2 Gen2 ports, a Gigabyte Ethernet jack, an HDMI 2.0b, a mini-DisplayPort 1.4, a multifunction Type-C (data & display), and a DC-in.
As the keen-eyed have noticed, that gives this machine the potential to drive three 4K displays at once. GEEKOM advertises that the Mini IT8 supports four simultaneous screens, but to achieve that you need a Type-C hub with two video output interfaces, and it won't be cheap.
Due to the soaring prices of card readers recently, many PC makers have removed the storage card slots from their PC products, but not GEEKOM, as you can find an SDXC slot on the left side of this mini PC.
Getting access to the internals could not be easier, just loosen the four screws and you will be able to remove the bottom panel.
There are two memory slots, an M.2 2280 NVMe/SATA SSD slot, and a connector for a 2.5-inch SATA HDD/SSD on the Mini IT8's motherboard. You can have up to 32GB of dual-channel DDR4-2400 memory, and as much as 3TB of total internal storage.
The Mini IT8 doesn't come with fancy features such as WiFi6, or 2.5Gbps ethernet-like some higher-end mini PC do. But dual-band WiFi5 still offers fast and reliable wireless internet access, and the Gigabyte Ethernet jack can come in handy when you want a more stable data rate.
Because of the magnalium impact-protection frame, the Mini IT8 is a little bit heavier than most other mini-PCs of the same size. The unit that I am testing weighs 580g on its own ( with two memory sticks and an M.2 2280 NVMe drive).
When we add the relatively bulky power brick to the equation, the combined weight reaches 996g. In comparison, the Intel NUC 8, which is about the same size, weighs up to 684g on its own and 1224g with the power brick included. So, moving the GEEKOM Mini IT8 around in the house or taking it to work shouldn't be too much effort.
System & App: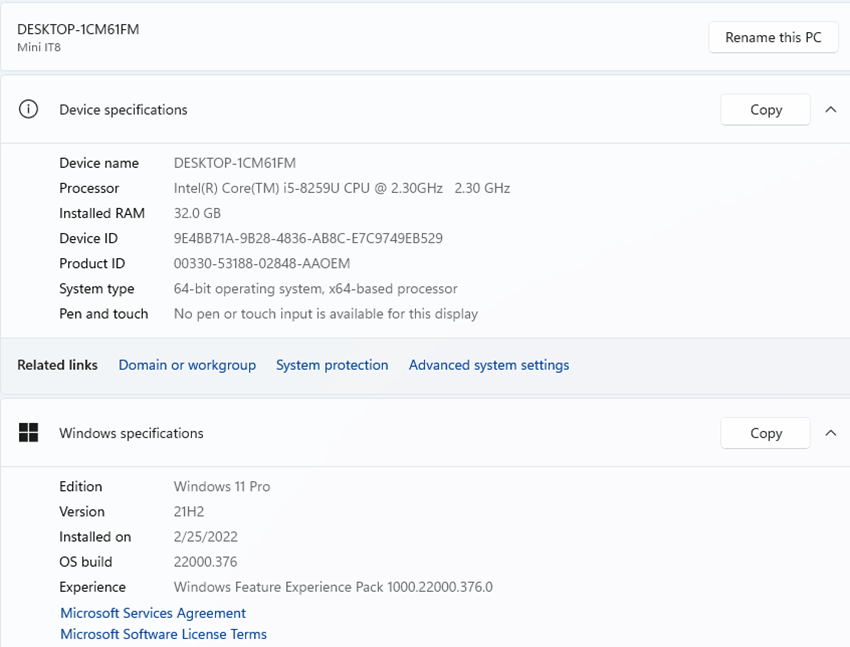 Most mini PCs and laptops run on the Home Edition of Windows OS, But as a mini PC equivalent to an Intel NUC, the GEEKOM Mini IT8 comes with licensed Windows 11 Pro, which offers quite a few extra features.
The most important one is being able to join a domain, including Azure Active Directory for single sign-on to cloud services (and have group policy applied as part of that).
You also get Hyper-V for virtualization, BitLocker whole disk encryption, enterprise mode Internet Explorer, Remote Desktop, a version of the Windows Store for your own business, Enterprise Data Protection containers (a feature that comes later in the year), and assigned access (which locks a PC to running only one modern application, to use like a kiosk).
Pro users can get updates from Windows Update for Business, which includes options for scheduling updates, so they don't reboot PCs at important business times.
The Windows 11 Pro here is completely clean, with no pre-installed 3rd party applications or bloatware that you need to uninstall after the first bootup. The Windows 11 OS license will be automatically activated once the mini PC gets internet access.
Performance:
The GEEKOM Mini IT8 is powered by an Intel Core i5-8259U processor (2.3-3.8GHz), which is built on a 14nm process, has 4 CPU cores, 8 processing threads, and integrated Iris Plus 655 Graphics.
This processor was released way back in 2018, so it won't be able to compete with the high-end chips found in the latest products released by Intel NUC, but it should be more than capable of any mainstream computing duties you care to throw at it.
Benchmarks: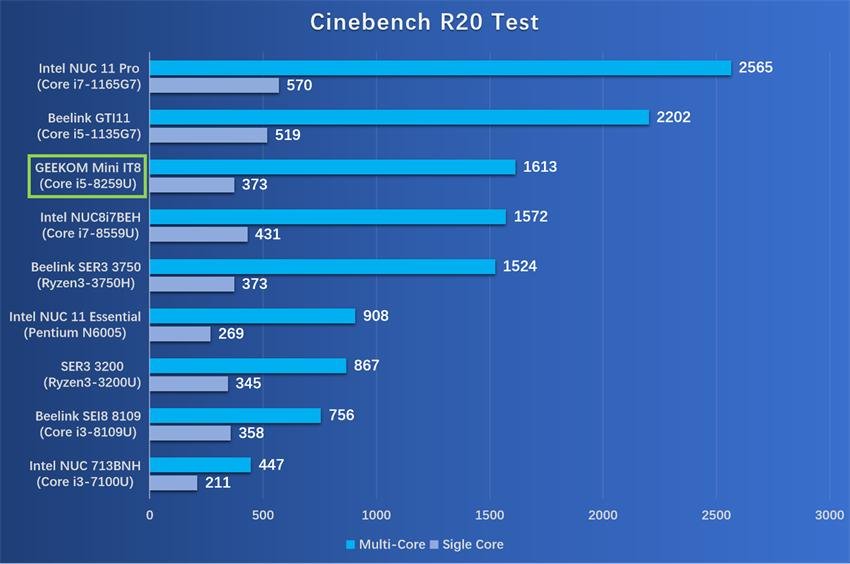 First, I ran Maxon's CPU-crunching Cinebench R20 test, which is fully threaded to make use of all available processor cores and threads. Cinebench stresses the CPU rather than the GPU to render a complex image.
The result is a proprietary score indicating a PC's suitability for processor-intensive workloads. The Mini IT8 scored 373 in CPU single-core, and 1613 in multi-core. Somehow the Mini IT8 managed to surpass its equivalent in the Intel NUC, the NUC8i7BEH, which rocks a higher-end Core i7-8559U chip.
Each Geekbench 5 CPU workload models a real-world task or application, ensuring meaningful results. These tests are complex, avoiding simple problems with straightforward memory-access patterns, and pushing the limits of the tested system.
The GEEKOM Mini IT8 did quite well in the CPU tests, beating the Intel NUC8 again in multi-core performance. It also snatched 8651 in OpenCL, indicating that the integrated graphics here can do a lot more than just office work.
PCMark 10 simulates different real-world productivity and content-creation workflows. we use it to assess overall system performance for office-centric tasks such as word processing, spreadsheeting, web browsing, and video conferencing. The Mini IT8 notched 4186 in the standard PCMark 10 test, not that far behind the i5-1135G7 powered Beelink GTI11.
My review unit features a Kingston m.2 2280 NVMe SSD. At nearly 2.5GB/s for reading data off the drive, it is still more than ideal for booting Windows and all your favorite apps.
If you are going to get a GEEKOM Mini IT8, be sure to ask the seller for the full configuration of your unit, as you will need dual-channel memory to get the best performance out of the mini PC.
In the AIDA64 cache & memory benchmark, the read, write and copy speeds of the memory will almost double after dual-channel setup, and the performance of the integrated GPU will benefit from it, as well.
What Can GEEKOM Mini IT8 to Do?
Daily computing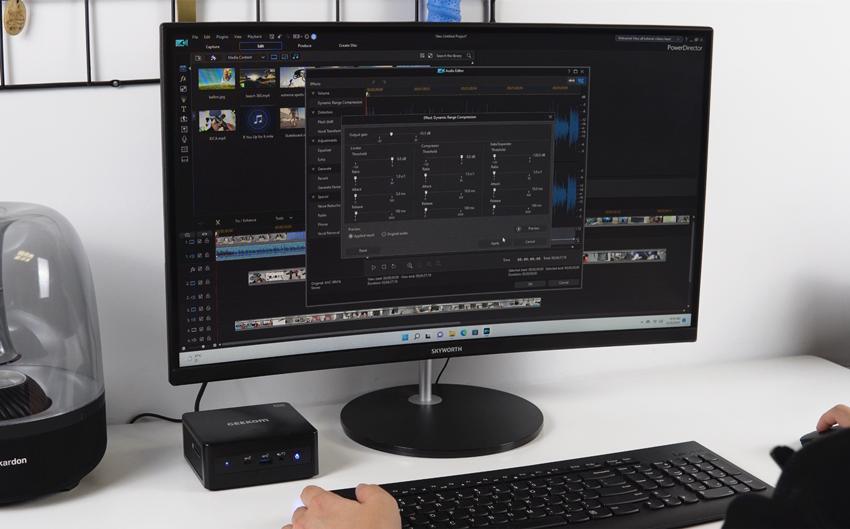 As Intel NUC excellent alternative, the GEEKOM Mini IT8 was quite efficient in all kinds of daily computing duties, including office workflows, web-browsing, and multi-media. There were no hiccups or delays when loading 10+ image-heavy webpages in Chrome, playing an 8K video and running a few big apps side by side.
Lightweight creativity tasks were also not an issue for this mini PC, as it was fast and perfectly responsive while running apps such as Photoshop and Lightroom. Even editing videos, which should be challenging for most SFF PCs, is a can-do on the Mini IT8.
When I was adding filters to multiple 1080P clips at the same time, the machine did not seem like it was struggling, although it did take more time to finish each task than the Ryzen9-5900HX powered Beelink GTR5. With that said, you would not want to use this mini PC editing videos in 4K, as that requires even more processing power from the system.
Gaming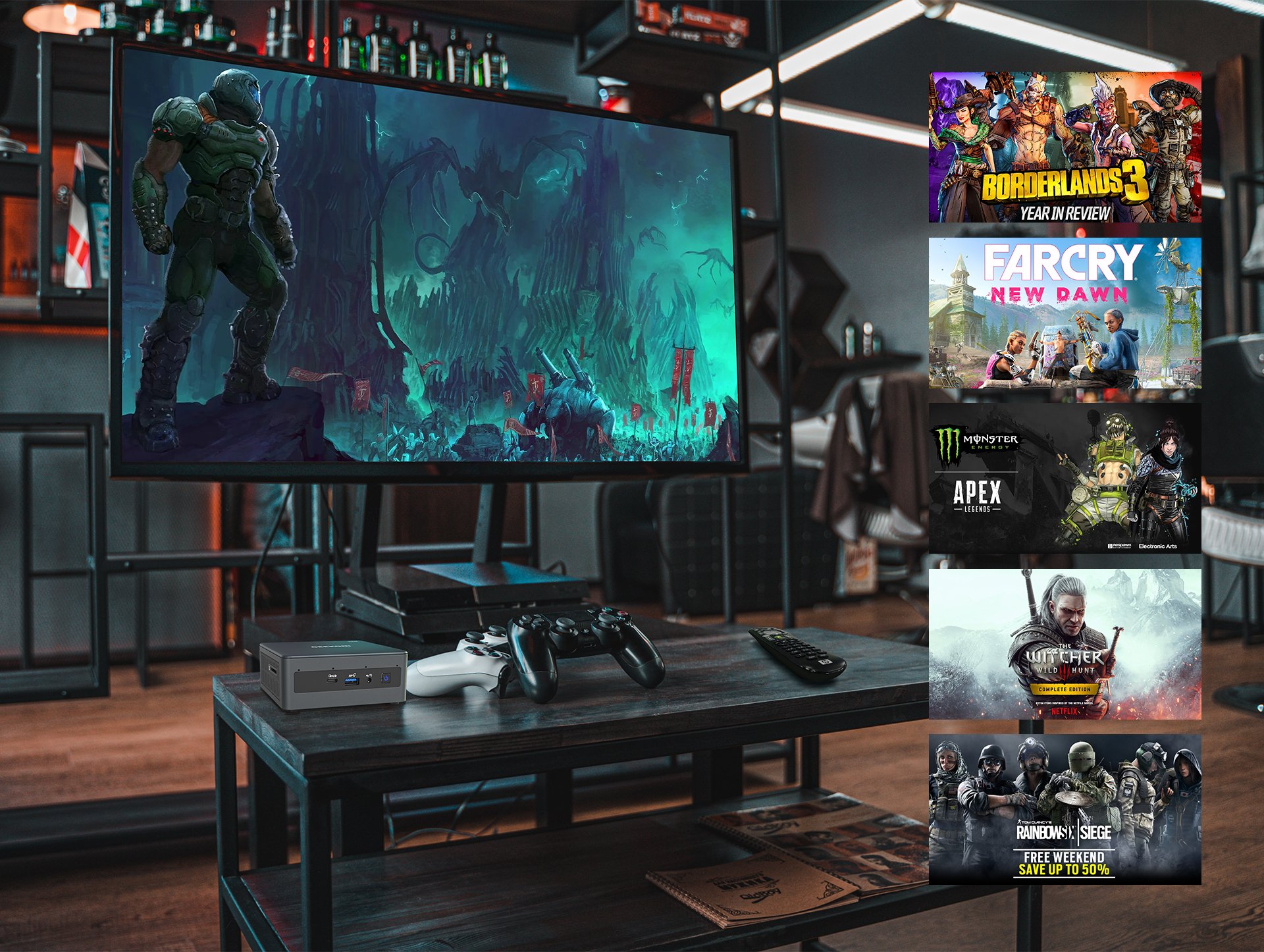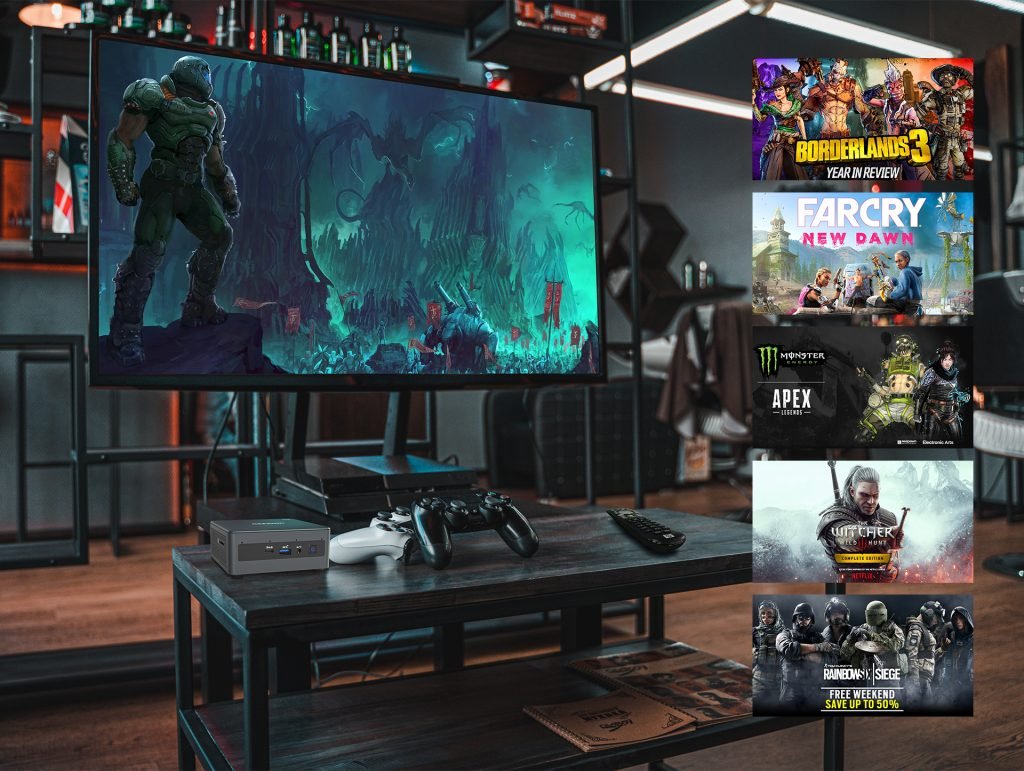 The Intel Iris Plus 655 Graphics GPU in the Core i5-8259U is not as fast as the Iris Xe Graphics found in the 11th and 12th generation Intel Core processors, but it is still a much better integrated GPU than the Intel UHD Graphics found in Celeron and Pentium processors, and scores of 3DMark test told the story. The Mini IT8 was returned 7428 in Sky Diver, 1957 in Fire Strike, and 743 in Time Spy.
League of Legend was fairly smooth in 1080P and medium settings. There were no noticeable frameskip or stutters even in the most intense battle scenes. GamePP recorded an average of 98fps, pretty decent for a midrange mini PC.
Genshin Impact was playable in 1080P and medium settings, but at only 30fps on average, it's not all that enjoyable. After turning the resolution down to 720P, GamePP recorded an average of 49fps, and the smoothness improved significantly.
Spell Break was a very similar story. At 1080P and medium settings, we got an average of 41fps, which wasn't too bad, but there were noticeable frame drops and delays in some of the more complex scenes. Turning the resolution down to 720p, the frame rate could stay above 55fps all the time.
As the results indicated, even though the Mini IT8 isn't built for gaming, it can run some most modern games at moderate settings. And if you are a fan of simpler, more casual games like Angry Birds, Plant VS Zombies, or any games installed from Microsoft Store, then you should not be worried about the smoothness at all.
HTPC
If gaming isn't one of the Mini IT8's strengths, media playback certainly is! According to DXVA Checker, the Iris Plus 655 GPU inside the machine can decode most video formats of up to 4K or 8K.
If you have a collection of high-res movies and shows, you are in for a treat! I tested dozens of 4K and 8K clips on the Mini IT8, all of them played smoothly. Also, because the mini PC always utilized hardware decoding, the CPU usage was low and the cooling fan stayed fairly quiet in video playback.
Streaming super high-res videos online was not a problem for the Mini IT8, either. Playing an 8K@60fps YouTube video in the Chrome browser, the utilizations of the CPU and GPU were 40% and 81% respectively, and the playback was extremely smooth.
Power consumption, temperature, and noise
Power consumption on the GEEKOM Mini IT8 is at 15watts idle and 70watts on max load. Not the most energy-conservative we've seen, but still more environment-friendly than most Intel NUC computers. Internal CPU temperatures ranged from 35℃ idle and 78℃ under max load which caused the cooling fan to spin up.
The Mini IT8 stayed quiet when dealing with light-weight tasks, I could watch the "Johnny Depp vs Amber Heard" court drama all day long without hearing any noise from the machine. However, the cooling fan will make audible noise when the system is under a heavy workload.
Fortunately, it was neither too loud nor too annoying. If you had the Mini IT8 mounted under your desk or behind a monitor in an office cubicle, it would be highly unlikely for you to get distracted by the fan noise.
Verdict
There's a lot to like about the GEEKOM Mini IT8. It's conveniently-sized, and could easily fit into even the most tightly-packed desktops. It's also highly versatile, with a range of different ports, mounting options, and configurations available to suit almost every conceivable business need.
There are many reasons why a GEEKOM Mini IT8 would be a better option than an intel nuc, If you are looking for a small desktop PC that is more than capable for your everyday basics, yet still affordable enough as not to break your bank, the IT8 is too good of an option to be overlooked.