With a beefy Apple M1 processor and super compact design, the Apple Mac mini 2020, also known as the M1 Mac mini, is considered by many as the mini PC to beat. However, not everyone is accustomed to the OS X platform and some might prefer Windows instead.
So, Is there a Windows mini PC that's comparable to Apple's Mac mini? So luck, For those wanting a small footprint computer that offers similar performance to the Mac mini M1, the recently released Mini IT11 from GEEKOM may be an excellent choice.
Here are the key differences between those two mini PCs.
OPERATING SYSTEM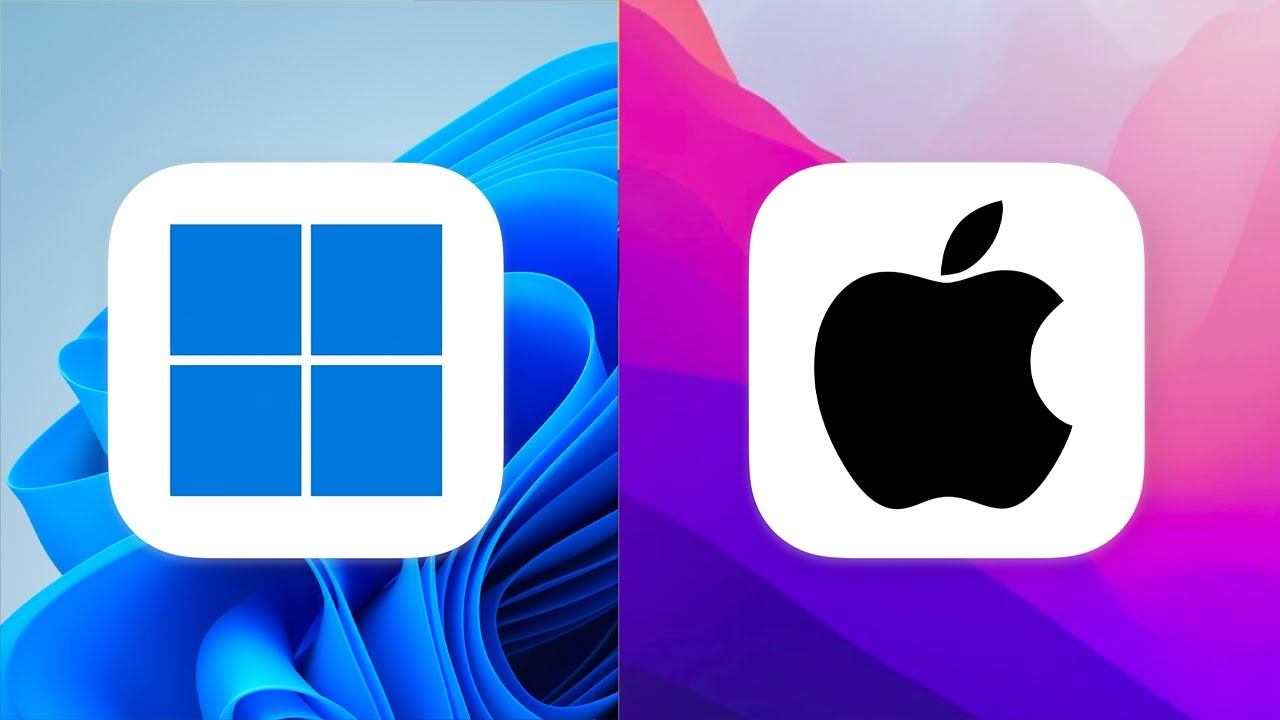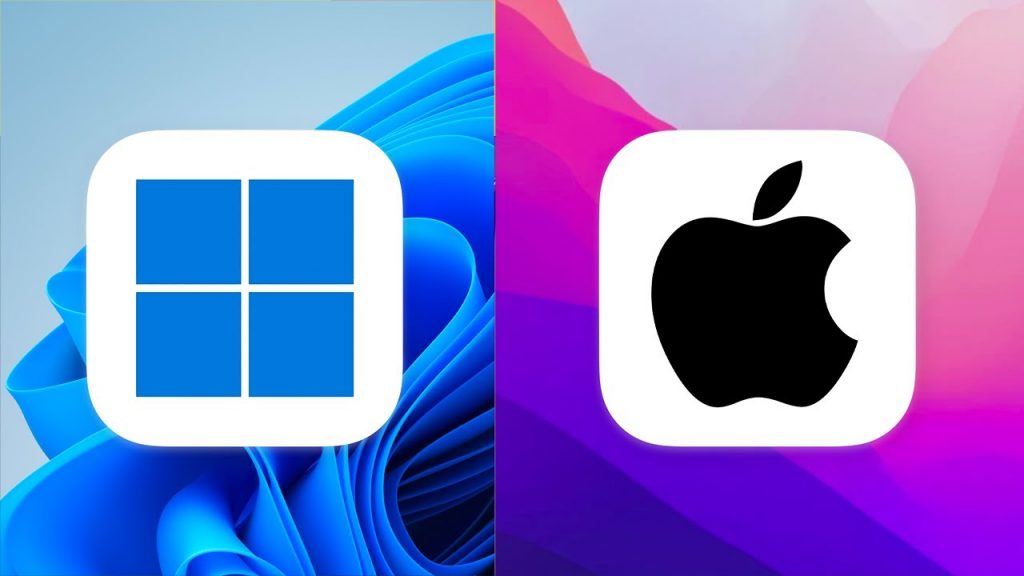 The Apple Mac mini runs macOS Monterey out of the box. Whether you like macOS or not, you will be somewhat stuck with it, since Apple's very own silicone hasn't been made compatible with other operating systems yet.
You can find tutorials online to install Asahi Linux for Apple M1 on the Mac mini, but it's an Alpha build with many bugs waiting to be fixed. Also, installing it is a complicated process that could take a lot of time and effort. The development of Windows OS for Apple silicone is still in its early stages and may take months, if not years to come to the first test build.
As best alternative to mac mini, the GEEKOM Mini IT11 ships with licensed Windows 11 Pro, an operating system that obviously suits more people. According to an analysis done by Statista Research Department, 73% of all PCs out there are running on Windows. If you are more into open-source operating systems, the GEEKOM Mini IT11 is also perfectly compatible with Ubuntu, Debian, CentOS, Deepin, Android, etc.
PORTABILITY
The Apple M1 Mac mini measures 197 x 197 x 36 mm (1.4L) and weighs 1.2 kg. The GEEKOM Mini IT11 is even more trimmed down, with dimensions of 117 x 112 x 45.6 mm (0.6L) and a weight of only 565 g. Both mini PCs are extremely portable, but the GEEKOM Mini IT11 is 57% smaller and 53% lighter, and will surely fit into more small sling bags or carrying pouches. By the way, GEEKOM offers a carry case specially designed for Mini PC, easily store your MiniPC, VESA mount, mouse, power adapter, and power cable.
PERFORMANCE
The Apple Mac mini rocks an Apple M1 processor, which employs the ARM architecture and 5nm process. This chipset has 8 CPU cores, 8 processing threads working at 2.1 GHz (3.2 GHz Turbo), and an integrated 8-core GPU with 2.6 teraflops of throughput.
On the other hand, the mac mini windows alternative, the GEEKOM Mini IT11 is an Intel-based PC. The highest configuration variant sports an 11th Gen Intel® CoreTM i7-1165G7 chipset, which employs the X86 architecture and 10nm process, has 4 CPU cores, 8 threads with a base clock speed of 2.8 GHz , and a Turbo clock speed of 4.7 GHz. This SoC also incorporates the Iris® Xe Graphics iGPU to take care of graphics-intensive tasks.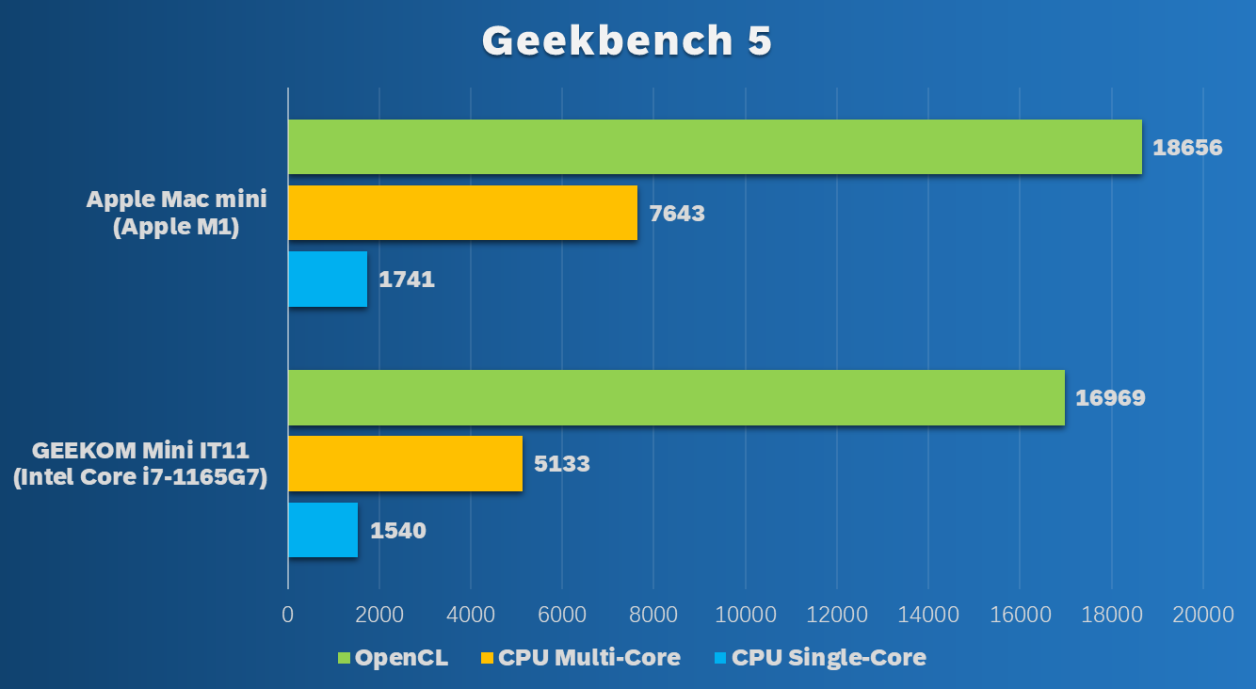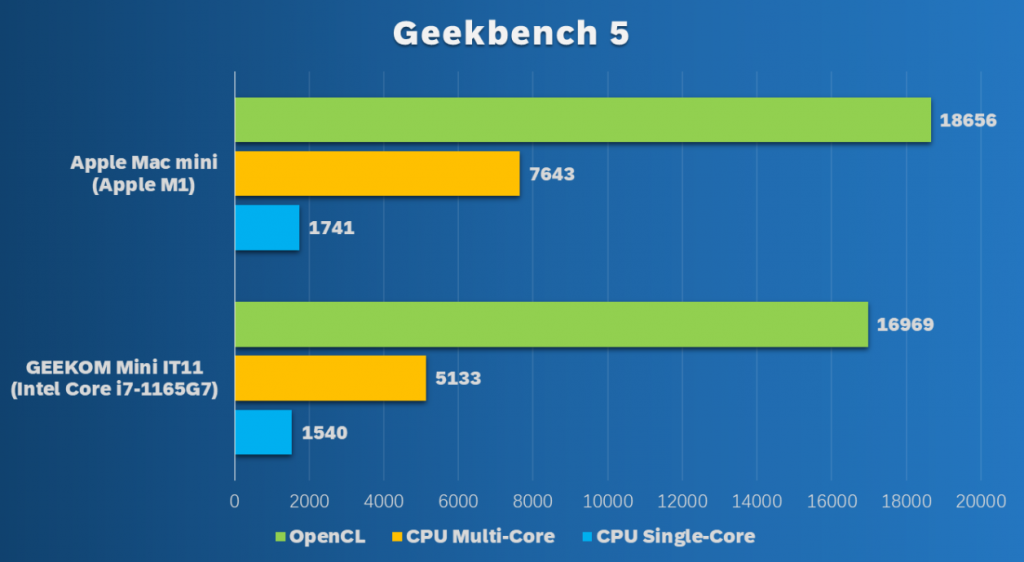 We are using two cross-platform benchmarks to compare the performance of these two mini PCs. In Geekbench 5, the GEEKOM Mini IT11 scored 1540 in CPU single-core, 5133 in multi-core, and 16969 in OpenCL. By comparison, the Apple Mac mini did slightly better in all categories.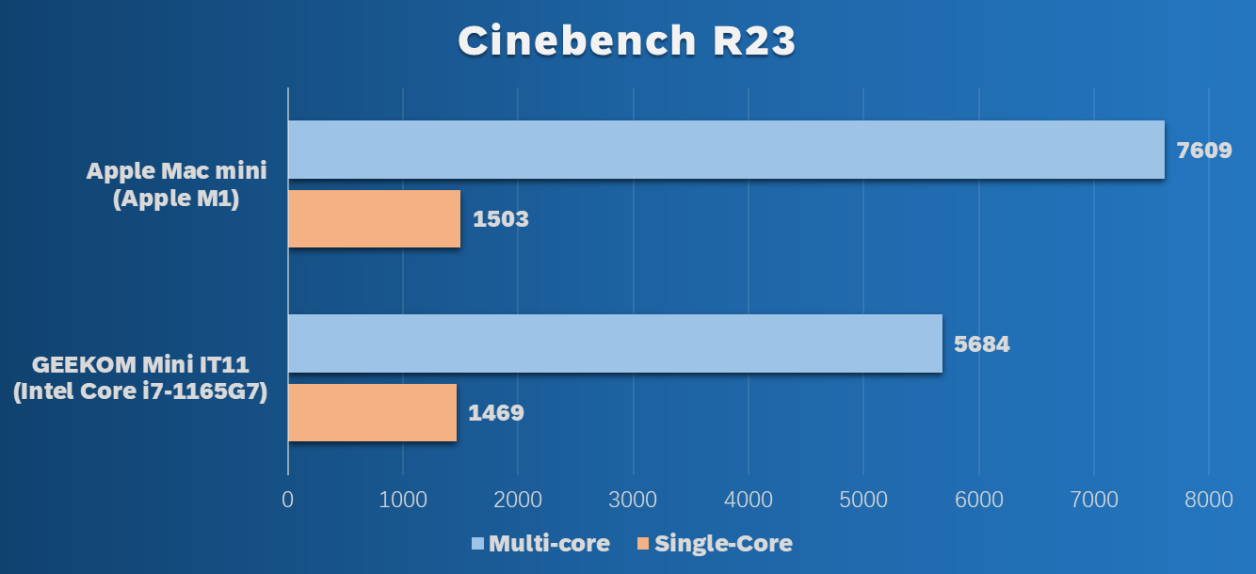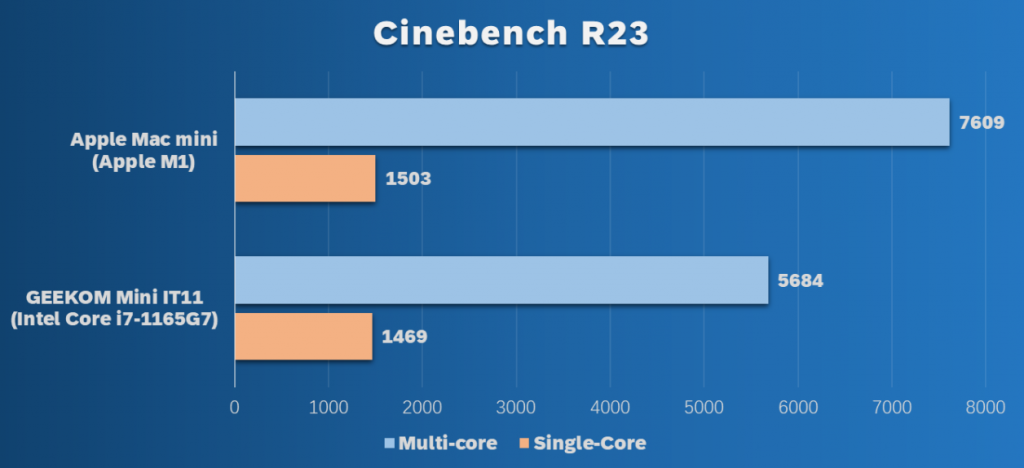 In the Cinebench R23 CPU-crunching test, the Apple Mac mini also achieved better scores in both CPU single-core and multi-core subtests.
As impressive as the Apple silicone might be in performance, benchmark scores don't always translate into real-world experiences. Both the Apple Mac mini and the GEEKOM Mini IT11 are equally fast and efficient in handling mainstream computing duties. For heavier tasks like editing 4K footages, or doing complex artwork designs, one can easily assume that the Apple Mac mini is more capable.
Without a discrete graphics card, neither computer is particularly good at gaming. You can argue that the M1 chip should be more powerful as it got a better score in Geekbench 5 OpenCL test, but there are way more titles designed for Windows OS than macOS, that surely gives the GEEKOM Mini IT11 an edge.
UPGRADABILITY
Apple sells the M1 Mac mini in several configurations: the base variant features 8GB memory and 256GB SSD, while the top variant comes with 16GB memory and 1TB SSD. Unfortunately, neither the memory nor the SSD is replaceable, because they are soldered on the motherboard, and the Mac mini doesn't offer any open SSD/HDD interface, either.
Apple has been marketing the M1 Mac mini as the perfect mini PC for video content creators. Ironically, those people usually need a lot of space for storing raw video footages, the limited internal storage of an M1 Mac mini can be filled up very quickly.
As mac mini competitors, GEEKOM does a good job of this. The Mini IT11 is sold in two configurations: the base model features an Intel® CoreTM i5-1135G7 SoC, while the top model rocks a beefier CoreTM i7-1165G7 chipset. Both variants come with 16GB memory and 512GB SSD, but you are allowed to upgrade them whenever you need to.
The Mini IT11 offers two memory slots, an M.2 2280 NVMe/SATA3 SSD interface and a 2.5-inch HDD/SSD interface. You can have a maximum of 64GB dual-channel memory and 4TB internal storage, which easily blows the Apple M1 Mac mini out of the water.
CONNECTIVITY AND PORTS
The Apple M1 Mac mini features two USB 3.0 Type-A ports, two Thunderbolt 3 ports, an HDMI 2.0 port, as well as a Gigabyte Ethernet jack. It can drive up to two displays (one at 6K@60Hz and another at 4K@60Hz) at the same time. In addition, the M1 Mac mini also supports 802.11ax Wi-Fi 6 wireless networking and Bluetooth 5.0.
Although GEEKOM Mini IT11 is equivalent to MAC mini in many aspects, it is superior in terms of connectivity. It comes with two USB 4.0 standard Type-C ports, which are equivalent to Thunderbolt 3 in terms of speed. The Mini IT11 also packs three USB 3.2 Gen 2 ports, one HDMI 2.0 port, one Mini DisplayPort, one SDXC slot, and a Gigabyte Ethernet jack, and is capable of driving up to four 4K displays at once. In addition, the GEEKOM Mini IT11 also features Wi-Fi 6 and Bluetooth 5.2 for wireless connectivity.
PRICE


Price is the one aspect that keeps most people from becoming an owner of Apple products. The M1 Mac mini is the most affordable computer Apple has ever made, yet it is still relatively expensive. For instance, the base model, which features 8GB memory and 256GB SSD, comes with a hefty price tag of $669.99, while the variant with 16GB memory and 512GB SSD retails for over a thousand US dollars on Amazon.
By comparison, the prices of the Windows-based alternatives seem much more sensible. Especially the Mini IT11 released by GEEKOM. The i5-1135G7 variant, with 16GB memory and 512GB SSD, sells for $549, with tax included. That's only half of the money you need to spend on an Apple M1 Mac mini with the same amount of memory and storage. Even the top i7-1165G7 variant, which also packs 16GB memory and 512GB SSD, is slightly cheaper than the base model of the Apple M1 Mac mini.
VERDICT
The GEEKOM Mini IT11 and Apple M1 Mac mini are very different from one another, but both can handle a wide range of computing tasks. If you are a die-hard macOS fan, then you have to go with the M1 Mac mini.
If you're looking for a Windows-based alternative that matches the new Mac mini in price, performance, and portability, the GEEKOM Mini IT11 will be a much more sensible choice for you.