Virtual Reality (VR) gaming has emerged as one of the most immersive and exciting forms of interactive entertainment.
However, to truly enjoy the full potential of VR, you need a powerful computer to drive the experience.
Traditional gaming PCs are often bulky and expensive, but there's a solution: mini PCs for VR gaming.
What Sets Mini PCs Apart for VR Gaming?
Mini PCs have emerged as a popular choice for VR gaming enthusiasts. Here's why they stand out:
1. Portability
Mini PCs are inherently portable, making them suitable for VR gaming setups in various locations.
Whether you want to take your VR rig to a friend's house or move it from room to room, mini PCs offer the flexibility you need.
Their small size allows you to carry them directly on your back, providing unparalleled flexibility in setting up your VR station.
2. Quiet Operation
Mini PCs are often designed with efficient cooling systems that keep noise levels to a minimum.
This is essential for VR gaming, as a noisy PC can disrupt the immersive experience.
With their quiet operation, mini PCs allow you to focus entirely on your virtual adventures without the distraction of loud fans or cooling systems.
3. Plug-and-Play Compatibility
Setting up a VR system can be a daunting task, especially for newcomers.
Mini PCs simplify this process with their plug-and-play compatibility.
This means less time troubleshooting and more time diving into your favorite virtual worlds.
The Best Mini PCs for VR Gaming
When it comes to Mini PCs for VR gaming, quality and performance are paramount. Here are some of the top options available on the market that can take your VR experience to the next level:
Intel Core i9-11900KB
Intel Iris Xe graphics
32GB DDR4 RAM
2TB M.2 2280 SSD
Wi-Fi 6E
Windows 11 Pro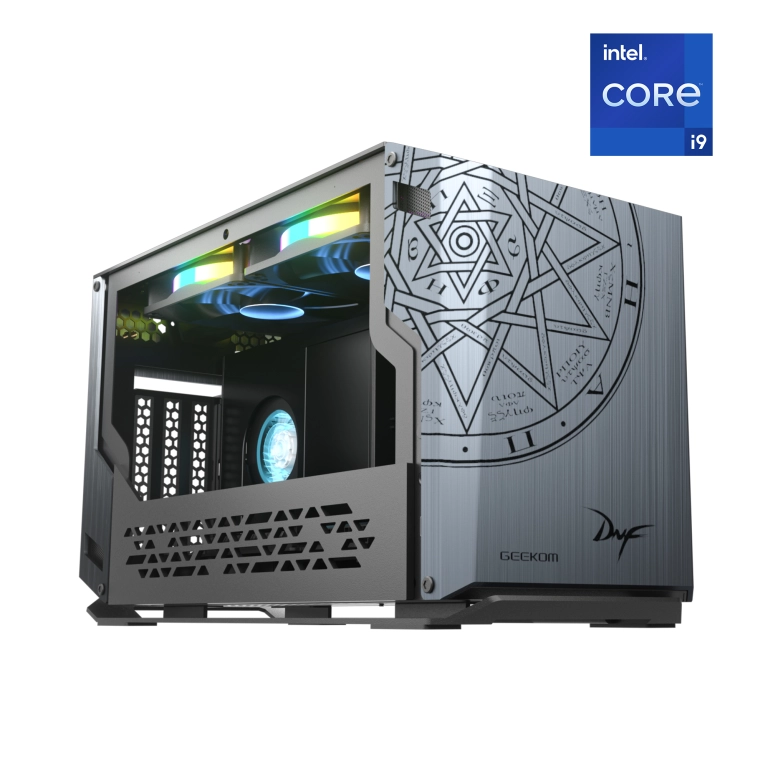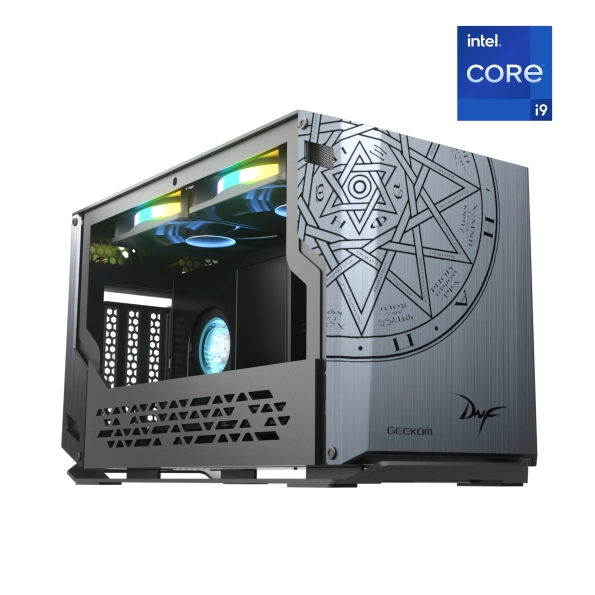 The Mini FUN11 is a mini powerhouse designed specifically for gaming, and it excels in VR gaming as well. It boasts an 11th Gen Intel Core i9 processor and Support for NVIDIA GeForce RTX 30 series GPU, delivering exceptional performance. With 32GB of RAM and 1TB of SSD storage, you'll have plenty of room for your VR games. It also offers an array of USB and DisplayPort connections for VR headset compatibility.
13th Gen Intel Core i9-13900H
Intel Iris Xe graphics
32GB DDR4 RAM
1TB M.2 2280 SSD
Wi-Fi 6E
Windows 11 Pro
The Mini IT13 combines style and performance in a compact form factor. Equipped with 13th Gen Intel Core i9 processors and Intel Iris Xe graphics, this mini PC can handle even the most demanding VR titles. It features 32GB of RAM and a 2TB SSD for storage.
AMD Ryzen 9 6900HX
AMD Radeon Graphics 680M
32GB DDR5 RAM
1TB M.2 2280 SSD
Wi-Fi 6E
Windows 11 Pro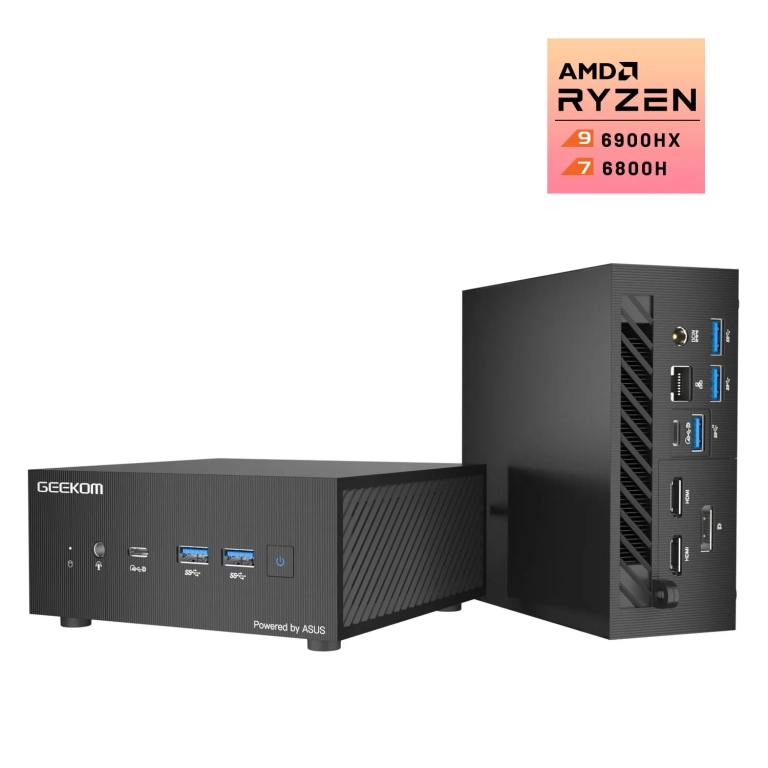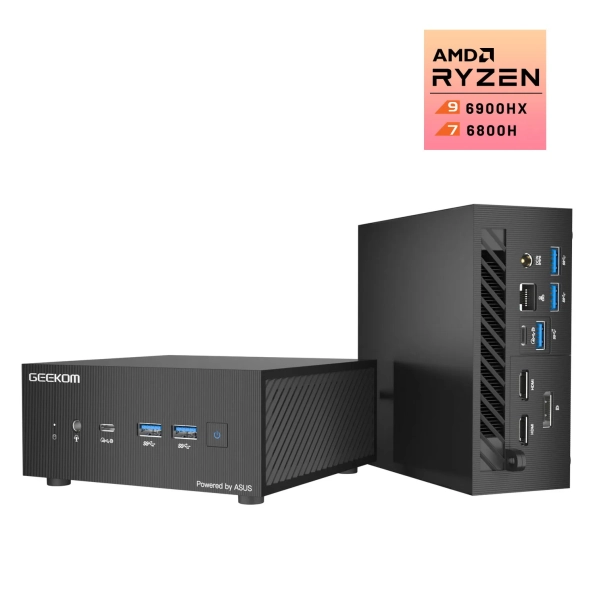 The GEEKOM AS 6 is a mini PC known for its powerful performance. It is equipped with AMD Ryzen 9 6900HX processors and AMD Radeon Graphics 680M, making it capable of handling VR gaming with ease. With 32GB of RAM and a 1TB NVMe SSD, it provides excellent multitasking capabilities and fast load times for your VR titles.
12th Gen Intel Core i7-12650H
Intel Iris Xe graphics
32GB DDR4 RAM
2TB M.2 2280 SSD
Wi-Fi 6E
Windows 11 Pro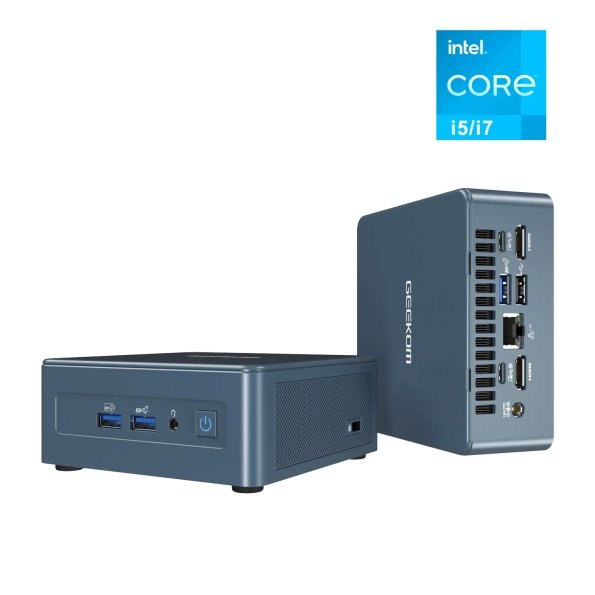 The Mini IT12 is a well-rounded mini PC that offers excellent value for VR gamers. It features 12th Gen Intel Core i7 processors and Intel Iris Xe Graphics, depending on the configuration you choose. With 16GB to 32GB of RAM and a variety of storage options, it can be tailored to meet your specific VR gaming needs.
11th Gen Intel Core i7-1195G7
Intel Iris Xe Graphics
32GB DDR4
1TB M.2 2280 SSD
Wi-Fi 6
Windows 11 Pro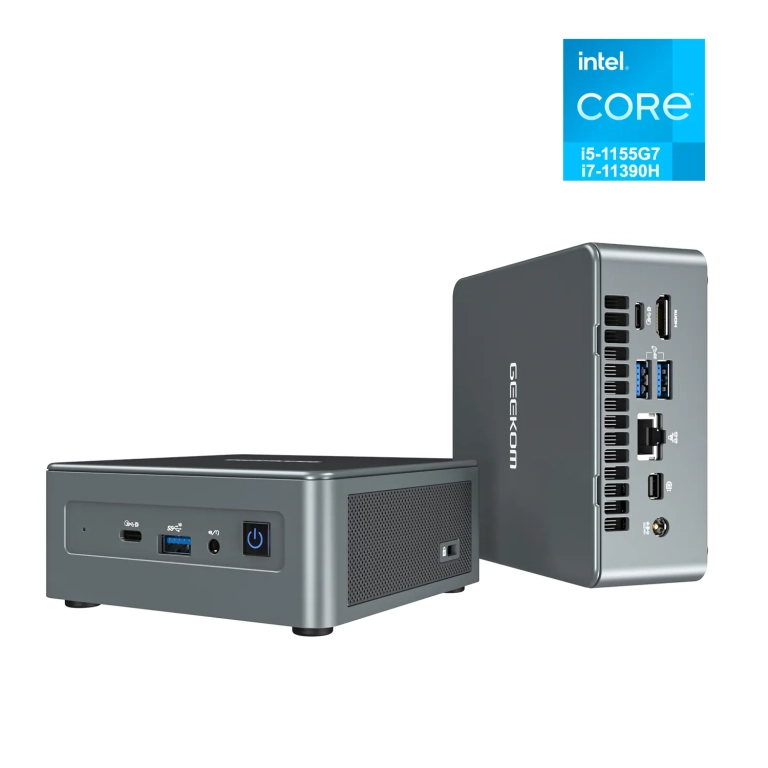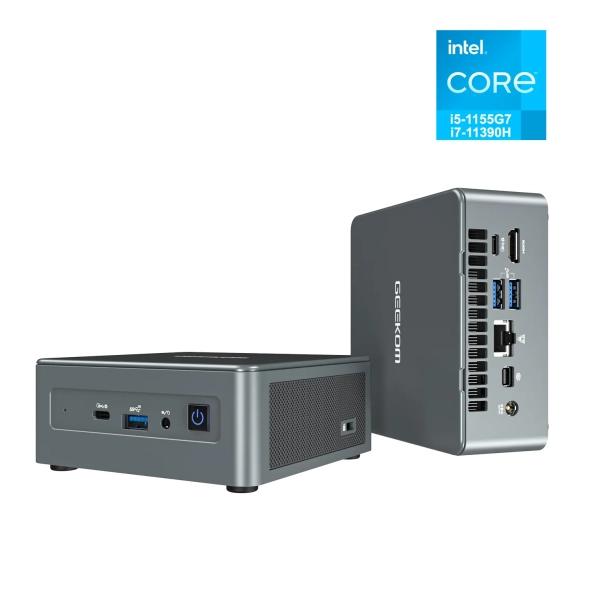 The Mini IT11 is a more budget-friendly option for VR gaming. It features an 11th Gen Intel Core i7 processor and an Intel Iris Xe graphics, which can handle most VR titles without breaking the bank. With 32GB of RAM and a 1TB SSD, it strikes a balance between performance and affordability.
Choosing the Right Mini PC for VR Gaming
When selecting a mini PC for VR gaming, there are several factors to consider:
1. Processor (CPU)
To handle the demanding VR applications, a multi-core processor is essential. Look for a quad-core or higher CPU from Intel or AMD, such as Intel Core i5 or AMD Ryzen 5. These processors provide the necessary processing power for smooth VR gameplay.
2. RAM
VR games require substantial RAM to run efficiently. A minimum of 8GB of RAM is recommended, but for optimal performance, consider upgrading to 16GB or even 32GB if your mini PC allows it.
3. Display
While VR headsets have their displays, your mini PC should be equipped with the necessary video outputs to connect to the headset. HDMI and DisplayPort connections are standard for most VR headsets.
4. USB Ports
VR peripherals, like motion controllers and sensors, connect via USB ports. Ensure your mini PC has enough USB ports to accommodate these devices without compromising performance.
5. Storage
VR games tend to be large, so having ample storage is crucial. An SSD (Solid State Drive) is recommended for faster loading times and smoother gameplay.
In Conclusion
With their compact design and formidable performance, they are your gateway to immersive and exhilarating virtual reality experiences.
Whether you're a seasoned gamer or just getting started, investing in a mini PC for VR gaming is a decision you won't regret.
Looking for a Mini PC that combines cutting-edge technology with affordability? Look no further than GEEKOM.
Frequently Asked Questions
Can I upgrade the components of my Mini PC for better VR gaming performance?
In some cases, yes. Check if your Mini PC allows for component upgrades, such as RAM or graphics cards, to improve VR gaming performance.
Do I need a dedicated VR room for Mini PC gaming?
While a dedicated VR room is not necessary, having enough space to move around comfortably enhances the VR experience.
Can I use a Mini PC for tasks other than gaming?
Absolutely! Mini PCs are versatile and can handle various computing tasks, from content creation to office work.